CRM PRACTICE - Our Experience is Your Asset!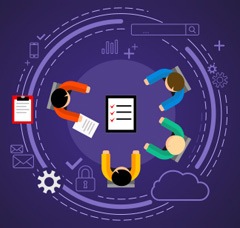 Sysintelli is a proud Partner of Salesforce. Sysintelli brings in industry specific knowledge, implementation experience and expertise to enable our Customers not only adopt Salesforce CRM technology confidently but build a complete Customer 360 echo system around it by seamlessly blending it into their existing enterprise systems.

Our Salesforce Platform experts have delivered complex solutions on marketing, sales and service clouds to over 30K users including integrating Salesforce with other enterprise back office applications such as SAP, Oracle BRM and on premise operational data store. Our implementations range from 10 user licenses to 5000+ users, serving customers in various industries like: Science & Technology, Oil & Gas, Hospitality, Government and Finance & Insurance.

From our experience, we observed that often times business teams could clearly define business goals, both for short term and long term. However, they find it difficult to define a roadmap to achieve those goals, let alone selecting which tools & technology to adopt. This is especially true for small and medium sized companies, and is an area where lot of precious time is spent. Sysintelli has experience in mapping business goals with incremental business process and technology changes and actually realizing those goals.
Business Process Re-engineering

Sysintelli CRM experts with industry specific experience can review your existing marketing, sales and service processes and suggest process and system optimizations for improved KPIs such as - increase in Lead Generation & Lead Conversion rates, reduced Sales Cycle duration. We focus not just on outcome of the process but end-user experience as well. We firmly believe that happy internal users lead to happier end Customers.

Technical Consulting

We deployed Salesforce CRM to over 30K Users. Our technology experts provide end-to-end CRM implementation services, from Solution Architecture, Development to Test & Deploy. We can migrate you from On-premise CRM to On-Cloud CRM solution. Our unique cost-effective project delivery methodology enables us to execute projects either at onsite or at onsite-offsite locations.

Managed Services

Sysintelli can build & operate your Salesforce Platform. We could also provide Tier I or Tier II support services, while you focus all your energies in developing your business strategies. Let us manage your Salesforce Platform, with round the clock (24X7) support, in Onsite and Offsite delivery model.

Sysintelli offers flexible Application Support plans to manage your planned or unplanned application support and development needs.
Give us an opportunity to be part of your Salesforce journey to take most business value out of it.